Return
The Best Car Rental Experience in Aguascalientes
Rent your car, truck, or off road with National Car Rental: destination we have the best car rental service in: destination with: offices offices located at different important points of the city. Find the location that best suits you and rent a car at: destination with National.
The city of Aguascalientes has admirable architecture, such as the Temple of San Antonio, its museums and restaurants. Places you must know and you can visit by renting a car with a national car rental, Calvillo declared a magic town in 2012, Real de Asientos, known for its fraying crafts. San José de García place where you can practice ecotourism.
The Best Car Rental Experience in Aguascalientes
Downtown
Av. Mahatma Gandhi #3108 offies E1-03 and E1-04
Fraccionamiento San Gerardo
Aguascalientes, Ags.
C.P. 20348
Phone: 449-247-0596
Hour of operation: Mon-Sun: 08:00 AM - 08:00 PM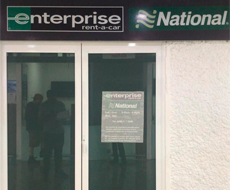 International Airport
Panamericana Highway Km. 22
Buenavista de Peñuelas, Ags.
C.P. 20340
Phone: 449-247-0596
Operation hours:
Lun-Dom: 08:00 AM - 09:00 PM
Downtown
Our Cars in Aguascalientes
A large fleet of cars, both compact and luxury, vans and all terrain are available to give them the use that suits you and you can travel the route you want.
Commercial Programs and Agencies in Aguascalientes
National Car Rental also offers services for companies and travel agencies both in Mexico and in the rest of the world to facilitate any car rental project in :destination that you have at your doorstep.
Our Destinations
Rent a car for your next trip. Check the information of our offices.