Return
Chetumal
Enjoy the breathtaking view of jade and turquoise bay, the cool breeze flowing through its streets, the singing of the birds that visit the city from protected natural areas, the archaeological site known Oxtankah just 20 minutes from the city​​.
National Car Rental México offices to Rent a Car in Chetumal
Fiesta Inn Hotel
Alvaro Obregón Ave. #229 corner Independencia Ave.
Downtown
Tel: 983-832-2664 and 983-129-2834
Hoours of operation: Mon-Fri: 07:30 AM - 07:00 PM Sat-Dom: 08:30 AM - 06:00 PM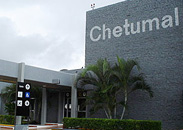 International Airport
International Airport of Chetumal
Chetumal, Quintana Roo.
Phone: (983) 129 2373
Hour of operation: Mon-Sun: 07:00 AM - 07:30 PM
Our Destinations
Rent a car in your next trip. Review the information of our offices.