Return
The Best Car Rental Experience in Chetumal
Rent your car, truck, or off road with National Car Rental: destination we have the best car rental service in: destination with: offices offices located at different important points of the city. Find the location that best suits you and rent a car at: destination with National.
Chetumal is one more city that is part of the Maya Coast, and you can visit its archaeological zones, natural wonders and beaches, aboard a rental car with National Car Rental.
Such as Calderitas, Isla Tamalcab, El Palmar among others. You could also visit the Yook' Ol KaabPlanetarium, the Payo Obispo Zoo and its museums.
The Best Car Rental Experience in Chetumal
Fiesta Inn Hotel
Alvaro Obregón Ave. #229 corner Independencia Ave.
Downtown

NOTA: Esta oficina se encuentra temporalmente cerrada pero podremos atenderte en locación del Aeropuerto Internacional de Chetumal (Phone: 983-129-2373)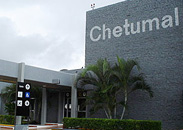 International Airport
International Airport of Chetumal
Chetumal, Quintana Roo.
Phone: 983-129-2373
Hour of operation: Mon-Sun: 07:00 AM - 07:30 PM
Enjoy the breathtaking view of jade and turquoise bay, the cool breeze flowing through its streets, the singing of the birds that visit the city from protected natural areas, the archaeological site known Oxtankah just 20 minutes from the city​​.
Our Cars in Chetumal
A large fleet of cars, both compact and luxury, vans and all terrain are available to give them the use that suits you and you can travel the route you want.
Commercial Programs and Agencies in Chetumal
National Car Rental also offers services for companies and travel agencies both in Mexico and in the rest of the world to facilitate any car rental project in :destination that you have at your doorstep.
Our Destinations
Rent a car for your next trip. Check the information of our offices.